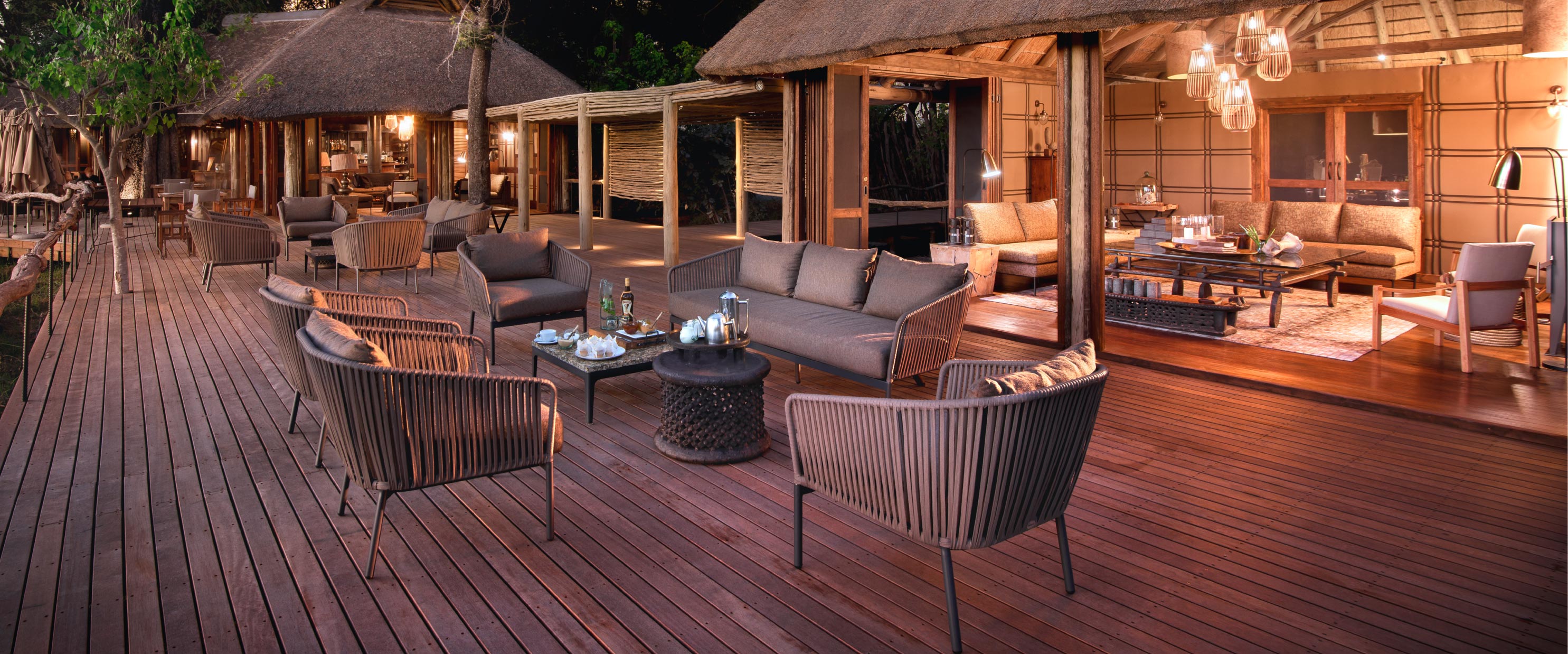 Luxury safari accommodation comes in many forms, but not everyone shares the same style and comfort preferences. Fortunately, we cover a wide variety of options.

Each year, our Travel Designers go on their own African safaris. They visit the camps to personally experience the accommodations, activities, the best seasons for game viewing, meals and service.

Our recommendations for you are based on expert and first-hand experience.
What follows is a guide to help you understand the different accommodation styles available on an African Safari:
African safari bush camps are simple, seasonal camps that are ingeniously designed. They are in stunning remote locations, worth visiting simply for the once-in-a-lifetime experience they offer. It is often possible to take a guided walk or go for night drives from bush camps. They do not pretend to be ultra-luxurious, although they cater to most people's needs.
Bush camps are usually re-built at the beginning of each dry season using local materials (reeds, grasses, poles, and thatch). The rooms are often adorned with local artefacts. Most have en-suite flush loos and overhead showers, although some have more simple arrangements.
More rustic satellite African safari bush camps are simpler and smaller, normally with just three or four rooms in total. The dining areas frequently have both a thatched roof section and a second more open area, perhaps under the shade of a huge Tamarind tree. Dinners are often enjoyed under the stars, candlelit, and accompanied by the evening calls of the wilderness.
Since one of the greatest things about an African safari is the sensation of being in wild remote places, these simpler camps often become the most memorable part of the adventure.
Mobile Tented Camp (also known as Under Canvas Camps)
When you hear, 'Experience Africa under Canvas', one might be quick to think, 'Camping'. This is true, although we must be clear. This is not 'camping' as most people might imagine it.
Mobile Tented Camps on an African safari are typically in remote locations with high wildlife densities. Your 'walk-in' tent is often just like a hotel room but with canvas walls. Tents are equipped with a bed, linen, bedside light, room for your clothes and belongings to spread out. There are large netted windows on all sides, with rain flaps that can be zipped up easily. There is an en-suite bathroom area at the rear of the tent with an eco-flush toilet and safari-style bucket shower. Jugs of hot and cold water are delivered to your tent when you'd like them.
The main dining tent sits in the middle of the line of tents with a fireplace right in front and a separate library/bar tent nearby. There are mobile camps that follow The Great Migration.
Not so long ago, all luxury African safaris accommodated their clients in mobile camps, simply because these provided the best accommodation in the bush, by far. It also meant you could move with your home. Famous personalities have travelled on African safaris and stayed in a mobile tented camp, including Prince Charles.
The mobile tented camp can be booked solely on an exclusive basis. Should you book this solely, there would be no need for you to accommodate other people here and no waiting for service while the steward attends to other guests. There are no set meal times. In many ways, the camp becomes your home on your African safari. You have meals when you want, and how you want.
You also have the benefit of camp facilities while on your activities. One day your guide might plan an early start and take a picnic breakfast in the vehicles. You can then stop at your convenience, find a spot and sit in camp chairs or on a rug adorned with cushions, and watch, for example, zebras come to a waterhole to drink. Another day the camp crew might bring out an elaborate brunch that you can enjoy sitting at a dining table set under an acacia tree and served by the camp waiters. Each day is different and because you do not need to concern yourself with other guests and the crew does not have to cater for anyone else, you are at liberty to relax and experience the rhythm of Africa in a way that is hard to do in larger camps or lodges.
Mobile tented camps are ideal when sited in quiet areas with minimum development, or in areas well worth experiencing because of high wildlife densities perhaps, and where other accommodation is basic or there are no other facilities.
While these camps can be moved, it is quite an operation, and so today they are generally set up in one special spot for the season (like the non-exclusive seasonal tented camps, for one to three months). Depending on the time of year the camp might either be in the best place for the migrant wildlife at that time of the year (especially relevant in the Serengeti, where large numbers of the wildlife are on the move) or in an area with a lot of freedom (such as being outside a national park).
Mobile tented camps are especially suited for groups of more than five people, as these camps are the best way to experience the African wilderness, while enjoying every luxury you could want, and especially when you are accompanied by close family or friends.
Experiencing Africa under canvas is by far one of the most exhilarating ways to go on safari. There is something romantic, yet raw about the mobile-tented camp. It may be passing dimly lit lanterns as you adjourn to your tent or the natural sound system of the bush's nightly calls. After spending the night under canvas, with the bush in your backyard, dreaming of the wildlife you have just seen, you will realise how fully connected you and the wilderness have become.
It is a magical bond that is difficult to create so quickly under other circumstances and it is only one of the many additional benefits to choosing an African safari under canvas.
Naturally, as times change, safaris, camps, and areas of pristine bush will continue to change.
Changes have affected a move from mobile camps to other types of accommodation when on Safari:
Permanent tented camps on African safaris vary widely in size, standard and the experience they offer, and often are located inside national parks and in more remote areas than lodges. They can be similar to lodges, but permanent camps nearly always have some tentage used in the structure, and often experience a more 'outdoor' feel, with a campfire near the lounge, and subdued lighting.
Most permanent camps that we recommend on our African safaris are luxurious. They rarely have more than 15 tents (usually no more than eight), and even when that large, will normally have more than one dining room, providing a more intimate atmosphere. All have modern plumbing, shower and toilet facilities with running water, some have a swimming pool, and occasionally (not always) a communication centre and perhaps a small gym.
The quality of each suite, alongside the calm and remote location, make permanent camps a great destination for your honeymoon or romantic getaway.
In the last decade, African Safaris have become endowed with increasingly more truly luxurious lodges. These epitomize the word 'luxury' and cater to every imaginable wish. The standard encountered in the classiest of these matches those of the finest hotels in the world. For this reason, they are the accommodation of choice for travellers where luxury and comfort are the prime considerations. These are rarely situated in as wild and remote areas as the mobile camps, but they are often placed in strategic locations with amazing panoramas and offer superb views.
Lodges in Africa take pride in their ability to incorporate their establishments within the environment. They combine elements of African architectures with absolute style. These luxury facilities blend themselves into the landscape so as to not jeopardize the surrounding ecosystem. Their structure is built with connecting hallways, a dining area, and guest suites.
Lodges generally are built of locally sourced rock and stone, or in some highland areas, of timber. They usually, though not always, accommodate more guests than camps. We might recommend a lodge over a camp on your African safari in colder areas as the rooms are warmer, and may have heating, hot tubs, and other facilities.
Safari camps vary dramatically in ambience and style. South Africa and Botswana have some of the finest game lodges in the world, complete with luxurious furnishings, superb cuisine, wine cellars and private plunge pools. By contrast, intimate and comfortable safari camps are on offer further north, and also in South Africa. ADORE Africa's lodges and camps are hand selected for their character, setting and superb safari experience. Something different altogether is a mobile tented safari, where the attention to detail is sublime.
Depending on your budget, our partner lodges start at 6 star all-your-heart-desires opulence, and run the whole gamut of accommodation options.
An African Safari today is a far cry from the safaris of the past. When inquiring about your safari trip it is best to be clear about what your expectations are regarding accommodation so that your travel designer can assist you in meeting your needs.
WHAT ARE THE PROPERTIES LIKE AND WHAT EXPERIENCE CAN I EXPECT?
It goes without saying that the majority of camps, lodges and hotels at this price tag are all 5 star and are some of the best properties in Africa. The experience these properties offer, from the food and service to the sheer quality of your accommodation, is as good as you will find anywhere on the continent.  Unless you are staying at an adventurous tented camp, you will find that the properties we use tend to have swimming pools, various locations for meals, and accommodation standards to rival any boutique hotel in the world.
Our classic safaris are seriously good safaris. The price you pay at this level ensures terrific trips and once-in-a-lifetime experiences. The properties themselves are more than comfortable, featuring large beds, excellent ensuite facilities and a real focus on the hospitality experience as much as the quality of safari itself.  The price bracket guarantees a significant increase in luxury levels over our value safaris, whilst the guiding standards are better too. High standards of accommodation and guiding combine to create a product that is backed up by our use of Africa's most-experienced and best-run safari companies.
One of the biggest differences between our classic and luxury categories is the space that you have in your own room.  Many classic properties, albeit superb, have rooms that are little more than places to sleep. At the luxury level, balconies, terraces and private plunge pools come as standard, allowing guests to relax privately in the heat of the day.
The guiding standards in properties like this deserve their own special mention. The companies running properties at this price level are sending their guides on extensive training courses – for the guides themselves, this is a big plus point. The resulting levels of guiding are obviously some of the very best.
Lodges
Lodges tend to be of permanent construction with rooms built of stone or wood. Most will have ensuite bathrooms with running hot and cold water. Some lodges have interconnecting rooms or family cottages and other facilities are likely to include dining and bar areas, swimming pools, library, etc.
Tented Safari Camps
Safari tents are large, comfortable and big enough to walk around in. They will be fully equipped with proper beds and furniture. The majority have adjoining bathrooms and flush loos. Some of the more remote camps will use long drop loos and safari style bucket showers. Tented safari camps will have central dining and bar areas and some have swimming pools.
Mobile Tented Camps
A mobile tented safari will be a camping style trip where tents are set up for you in remote, beautiful settings and in areas to maximise game viewing. Actual accommodation varies from simple dome tents to luxurious, classic style safari tents. In the majority of cases there won't be running water and facilities will comprise bucket showers and long or short drop loos. Meals will be taken outside with supper under the stars.
Bush Camps
These are remote versions of the tented safari camp and will often be taken down at the end of a season so may also be called semi-permanent camps. Some will be canvas tents and others constructed of timber. Most will have ensuite bathrooms but many will have long drop loos and bucket showers rather than running water. Most bush camps will have simple bar and dining areas for guests to congregate in at the end of the day.
Private Houses
There are a number of private houses spread throughout Southern and East Africa (primarily South Africa, Zambia and Kenya). These are beautifully appointed with ensuite bedrooms, and comfortable lounge and dining areas. Many have private pools and large garden areas. Private chefs, sommeliers, guides and vehicles can also be arranged for guests staying in private houses.