adore-africa-south-africa-blue-train-01-FA
adore-africa-south-africa-blue-train-02-FA
adore-africa-south-africa-blue-train-03-FA

THEY SPARED NO EXPENSE WHEN DEVELOPING THE BLUE
TRAIN EXPERIENCE THAT HAS CAPTURED THE ROMANTIC CHARM
OF A BYGONE ERA.
It is a world of elegant suites with gold-plated fittings, high teas, five-star meals, top
wines and service worth celebrating.

IT IS TIME-TRAVEL REDEFINED WHERE EACH JOURNEY IS SIGNIFICANT
AND EVERY DESTINATION IS EXOTIC, FROM THE SEMI-DESERT SCENES
AND GRASSLANDS TO A RANGE OF MOUNTAINS.



LARGE WINDOWS FRAME THE CHANGING VIEWS OF THE
COUNTRYSIDE AND ITS MANY LANDSCAPES.
The journey can even be tailored to take you on a safari adventure or to a world-class
golf course on the Garden Route. Dinner in the evenings, a highlight of Blue Train trips, is
a classy jacket-and-tie affair with crystal glasses, fine china and awarded wines. While you
dine, your private cabin by day is transformed into a luxury bedroom, by your personal
butler, for the evening ahead. Features include opulent marble ensuite bathrooms, air
conditioning and complimentary WiFi.

After dinner passengers can select a book, play a game of chess, enjoy a drink or even a Cuban
cigar in The Club Car. The Lounge Car on the other hand welcomes guests for afternoon tea or an
after-dinner glass of wine. If you have not considered it yet, a luxury train trip is an ideal way to
extend your travels. Prepare to be transported in style.




Visit either Kimberly, if journeying
south, or Matjiesfontein, if
journeying north, when travelling
overnight between Cape Town and
Pretoria across the hauntingly
scenic Karoo desert.



Staying at the treasured Kruger
National Park as part of your trip is
a splendid option as well if you are
looking to extend your itinerary.



For the ultimate South African tour,
however, combine nights on board with
stays in Cape Town, Cape Winelands,
Pretoria highlights and premium
private safari lodges.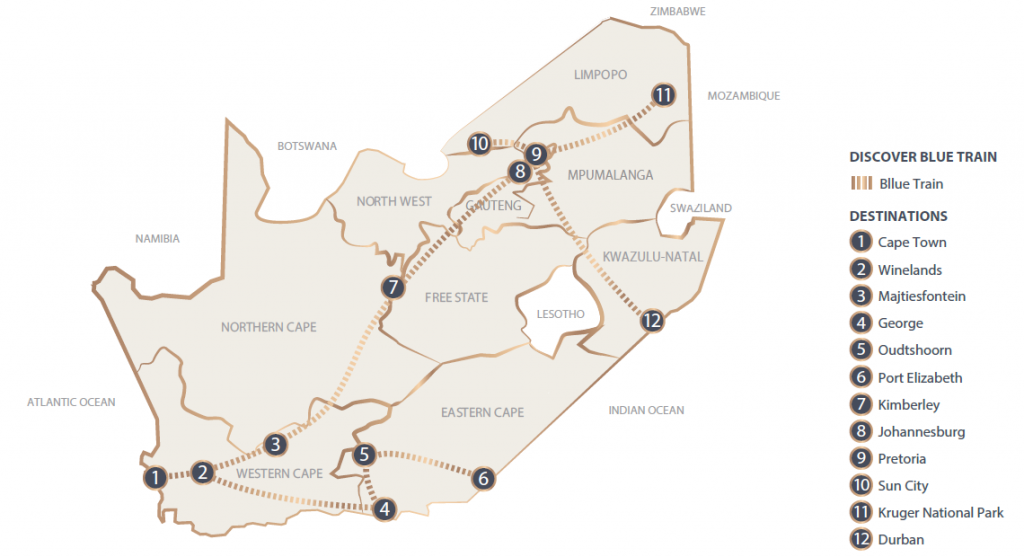 LUXURY TRAINS ACCOMMODATION

Luxury Hotel  |  V&A Waterfront  |  120 Rooms & Suites  |  20-minute drive from Cape Town Airport
Luxury Hotel  |  V&A Waterfront  |  120 Rooms & Suites  |  20-minute drive from Cape Town Airport