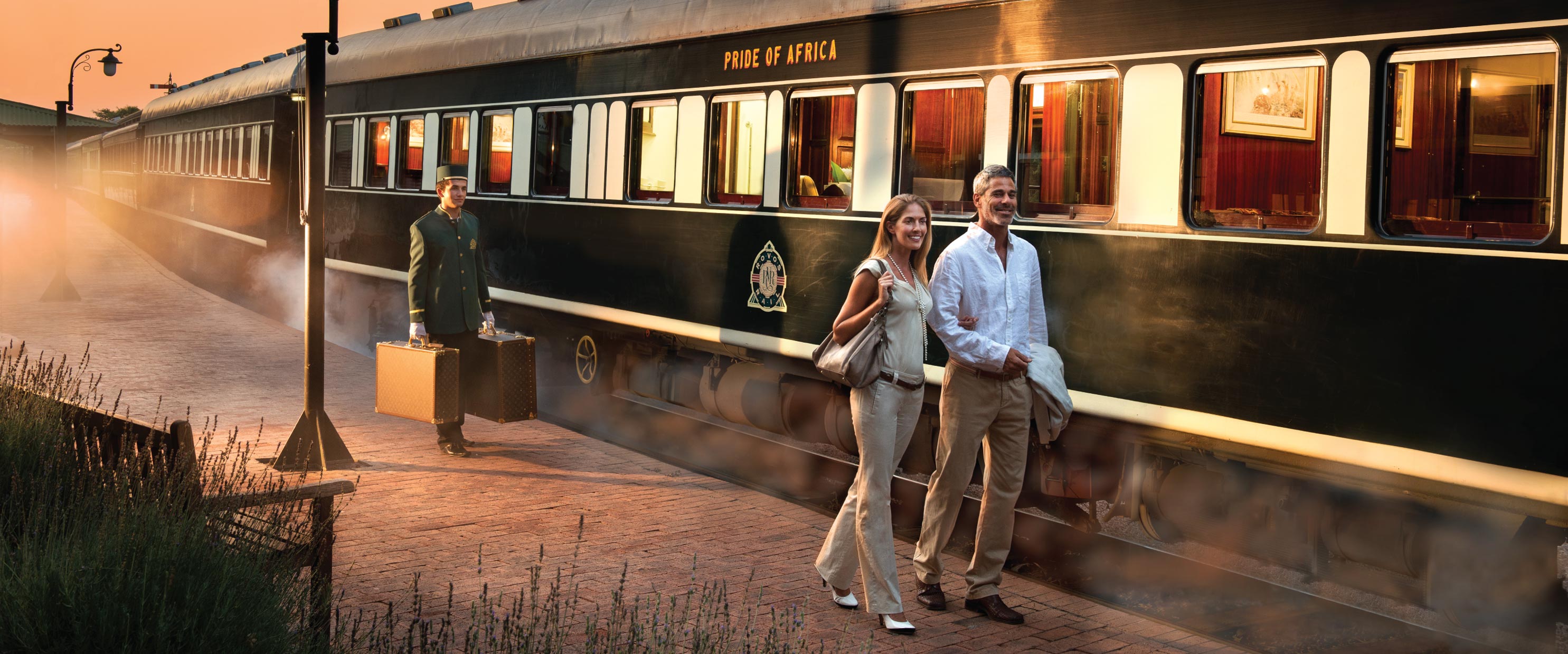 adore-africa-south-africa-luxury-trains-slider-01-FIN
adore-africa-south-africa-rovos-rail-02-FA
adore-africa-south-africa-luxury-trains-03-FA

ROVOS RAIL HAS CAPTURED THE ROMANCE OF THE GOLDEN AGE
OF TRAVEL AND PRESENTS PASSENGERS WITH A LEVEL OF
REFINEMENT MOST WILL NEVER EXPERIENCE.
It is the 'Pride of Africa' and renowned for being one of the most luxurious trains in the
world, promising culinary excellence throughout the journey.

ONCE ABOARD ONE UNDERSTANDS WHY, WITH PERSONAL BUTLERS AT
YOUR BECK AND CALL, HIGH TEAS IN THE AFTERNOON AND APERITIFS
SERVED ON THE DECK BEFORE DINNER, ANNOUNCED BY A GONG.



Rather than discovering new lands or seeking gold, this rail trip is reserved
for those who are ready

Rovos Rail offers a unique opportunity to soak up South Africa's scenery from lounge
cars or the observation deck while incorporating safaris and top golf courses along the way.
First-class accommodation with 24-hour room services comes in the form of beautifully
rebuilt Edwardian-style coaches of which there are only twenty.
Air-conditioned suites have double or twin beds and ensuite bathrooms with
showers and hairdryers. Spacious Royal Suites boast bathtubs and separate showers.
In the evenings, formal attire sets the scene. Phenomenal fine dining served in one
sitting and exceptional South African wines await guests in dining cars that exude a
charming Victorian atmosphere. Fresh, local ingredients and traditional dishes such as
game are heroed by a team of top chefs destined to delight.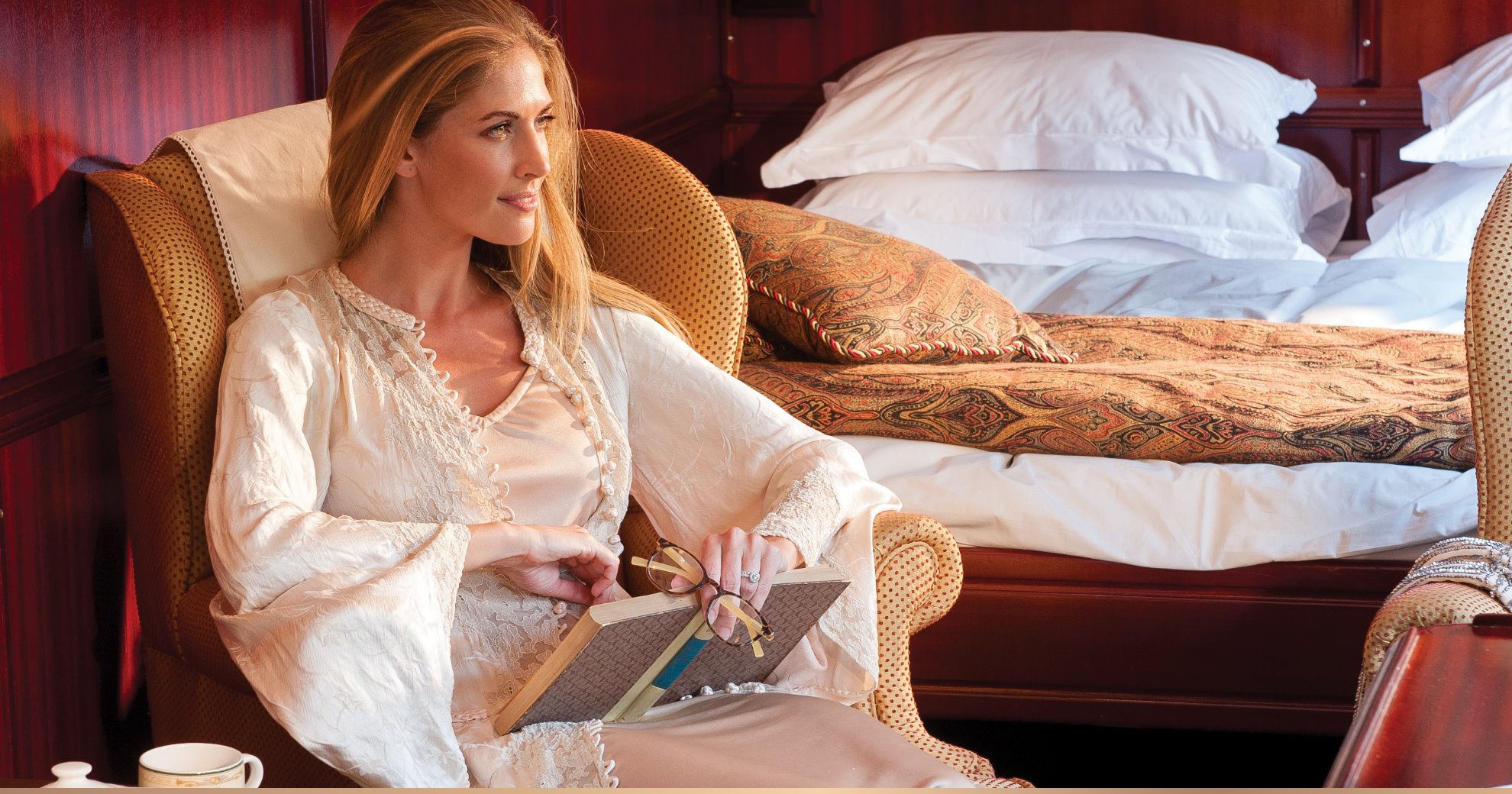 EMBRACE THE GRANDEUR AS TIME STANDS STILL WITH ROVOS RAIL,
A TRUE TREAT FOR EVEN THE MOST DISCERNING TRAVELLERS.

With Rovos Rail, every moment is a journey within a journey – from your first sunset on
board to the last dish prepared by gourmet chefs on your final night.


Two-night journey from
Cape Town to Pretoria
Highlights of the classic two-night
journey from Cape Town to Pretoria
include tours of Matjiesfontein in the
Western Cape and the diamond-rush
city of Kimberley.

Two safari drives and a battlefields
tour outlining Zulu and colonial
history form part of the two-night
trip from Pretoria to Durban.



Pretoria to Victoria Falls
To travel through Botswana to Victoria
Falls by train, complete with a game
drive en route in Hwange National
Park, choose the three-night safari.

The Pretoria to Walvis Bay
eight-night itinerary includes a visit
the Fish River Canyon, famous
Sossusvlei Dunes and Namib Desert.

Naturally there is a grand golf
adventure as well, consisting of eight
nights from Pretoria to Cape Town
tailored for golfers and non-golfers.


A truly epic 14-night excursion
transports travellers from Cape Town
to Dar es Salaam in Tanzania.

At a glance the trip includes
Kimberley, Matjiesfontein, Pretoria,
two nights at Madikwe Game Reserve,
a night in Victoria Falls Hotel and bush
walks at Chishimba Falls in Zambia.

Even more spectacular is the
fifteen-night journey from Cape Town to
Dar-es-Salaam. Countries visited are
South Africa, Botswana, Zimbabwe,
Zambia and Tanzania.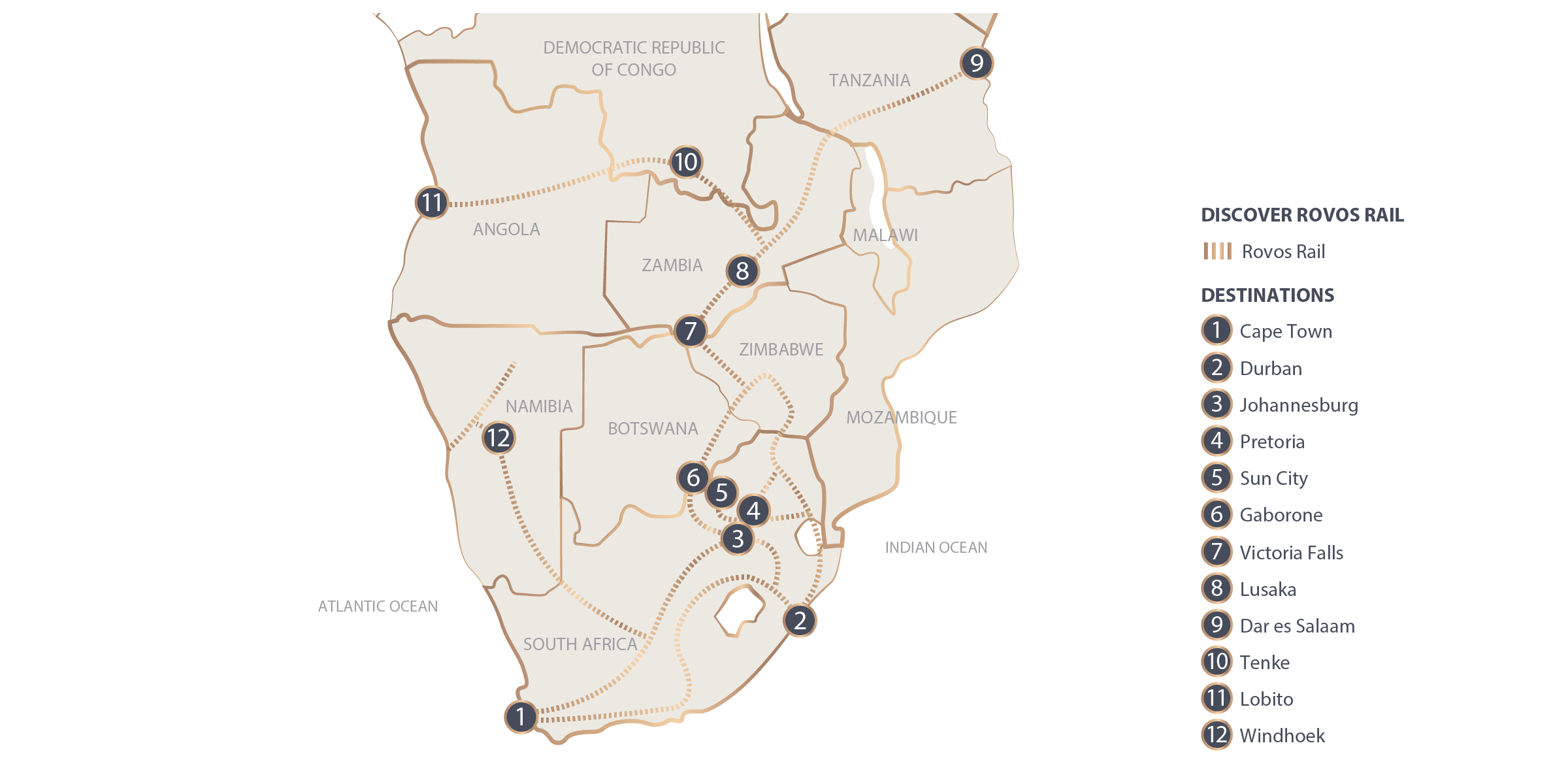 LUXURY RAIL ACCOMMODATION